Every Set Needs a Restroom: Access to Rental Toilets on Location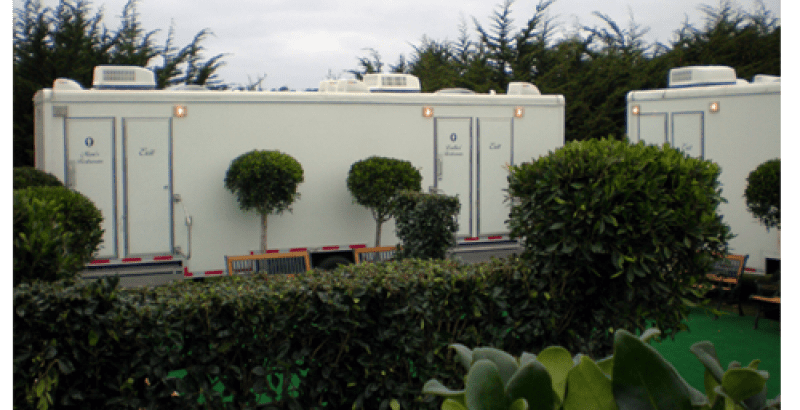 You are a location manager on a major movie set. You've got a lot of big decisions to make with lots of details to consider. The last thing you are probably thinking about is the availability of toilets on or near your sets, but you need to think about these things because your film crew and talent will inevitably need to use them.
Keeping your crew comfortable by providing safe, clean restrooms will help them focus on the job at-hand and help you and your team produce the best film possible.
Early on, during pre-production, start thinking about each film set location and the number of staff, type of staff, and the length of the shoot (sometimes very long days/nights) at these locations. Note: If shooting at night, make sure restrooms will be placed in a lighted area. Next, research the availability of permanent restrooms at each location. If availability is limited or not available, then you will need to plan to rent portable restrooms.
What type of portable toilet will you need for your film production?
There are many options when it comes to portable toilets. Do you need to rent a single portable non-flush toilet, or perhaps a more comfortable flushable porta potty? VIP Solar Restrooms are a nice upgrade from the standard porta potty with fresh water flushing, and do not need electricity to operate. Because these units are wider and taller than the average portable restroom they are an ideal choice for film crews working with elaborate costumes.
Another item to consider is a portable hand washing station, which will help keep everyone germ-free. Remember, a healthy staff is a productive staff! Your talent and producers may also appreciate a luxury restroom trailer on the set. These trailers offer a step up in comfort and class. To help determine the type of restroom you will need, check out our recent blog post, Portable Toilets V. Restroom Trailers.
For large film productions with multiple set locations across the country, consider working with a national portable sanitation company, such as United Site Services, to help ease your restroom planning burden. Working with a dedicated Account Manager that understands your needs at each location will save you time and money. After all, toilets are probably not your main focus. You've got lots of other details to worry about.
Are you in the pre-production stage of your film? Contact us at 1-800-TOILETS and our experts will help you check toilets off your worry list.