For Outdoor Weddings, Plan a Porta Potty Makeover
A staggering 35 percent of weddings in the United States are held outdoors. That's a lot of barn weddings, garden ceremonies, beach and vineyard venues and traditional back yard receptions. And with all the drinking and the dancing, that's also a lot of outdoor bathroom needs.
A wedding is an elegant affair, refined, beautiful and with some luck and planning, a seamless and happy event. People spend thousands of hours planning the perfect outdoor wedding, but only the really smart ones will think about where their guests will "go". Oh, and if you are considering a backyard event, know that even a small guest list can destroy a septic system. Mom and Dad will not be pleased.
The average American wedding has 120-150 guests, so to avoid a long line for the restroom, or worse, prevent your gentleman guests from sprinkling the hedges, have enough bathrooms for everyone. We suggest you speak with a United Site Services event specialist that can suggest the right amount of units for your event. Remember to order your porta potties a little in advance to make time for decorating.
Considering the idea of a porta potty? Here are a few things you can do to make this part of your wedding a little more inviting.

Share your photo ideas, tag us in your social media posts #ussweddings and check out our Pinterest inspiration board here.
IDEAS FOR YOUR WEDDING:
Decorate
Here are some ideas to get you started:
Give the men's and women's room their own decorative signs.
Run some bulbs or fairy lights on the inside (battery or solar work great)
Offer an upscale hand sanitizing option.
Set up a porta potty primp station. Find an old dresser at a flea market or thrift store to have outside, provide a mirror, hairspray, breath mints, and other goodies for guests to freshen up a bit!
Camouflage
After your potty is moved in and set up, place high potted plants or planted Arborvitaes around the outside.
Use decorative elements like Chinese fans, paper butterflies or seashells to add to the fun (be careful not to impede opening and closing doors, you overachievers).
Upgrade
Luxury Restroom Trailers are a really smart option for a bride who may also need to touch up makeup or change into another dress at the reception. Elegant interior design and accent features make restroom trailers a great choice for the most prestigious of events.  Check out our options here, or take a virtual tour of the trailer to see how upgrading can make a world of difference for your comfort and your guests.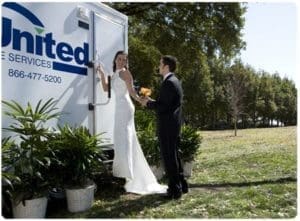 Novelty items
Order custom toilet paper! Custom designs can be found on our Pinterest page too!
Whether you are planning a small backyard wedding or a large wedding weekend at an outdoor venue, United Site Services is your source for the best portable toilet rental services for your big day. Our portable toilet rental services are sure to provide your guests with comfort and convenience, all while staying within your budget. USS has a wide selection of luxury porta potty rentals designed to fit within your budget without sacrificing size or style.
Are you a wedding planner looking to hear more about United Site Services solutions and products throughout the year? Sign up here to receive emails, announcements, planning resources and more!
To connect with a dedicated event customer care agent, please call 1-800-TOILETS