Keeping up with OSHA: Complying with regulations for portable restrooms at your construction site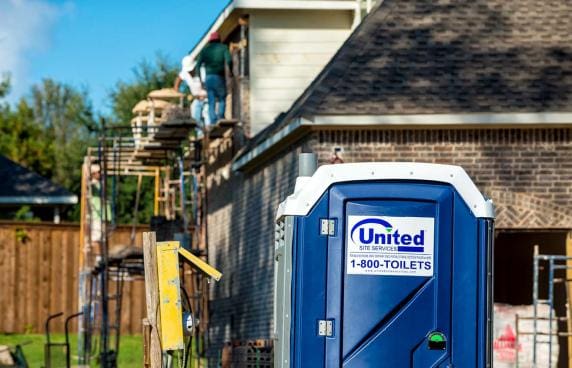 Do you have enough portable restrooms at your construction site to comply with OSHA's regulations for onsite sanitation? Are they clean enough? Are they accessible enough?
Take a minute before you answer, because as simple as those question seem, the real answers may be more complex. For example, did you know that, according to the OSHA website…
"There are currently 22 State Plans covering both private sector and state and local government workers…State Plans are monitored by OSHA and must be at least as effective as OSHA in protecting workers and in preventing work-related injuries, illnesses and deaths."
In other words, there's an almost 50 percent chance that your construction site is in a state that has its own onsite sanitation requirements that are at least as stringent as OSHA's. On top of that, OSHA regularly reviews and revises their regulations. So even if you think you're in compliance, and that you have enough job site portable restrooms, you could be mistaken.
Here's what you need to know about portable restrooms and onsite sanitation requirements
Truth is, there are simply too many regulatory details to cover here. And, as we mentioned, the regulations change as OSHA receives and incorporates new information. Your best bet? Visit the OSHA website regularly to confirm that you're in compliance with the latest version of their regulations for adequate job site portable toilets and other onsite sanitation issues.
That said, there are some guidelines that form the foundation for OSHA regulations regarding onsite sanitation. As an employer, you must:
Provide all workers with sanitary and immediate availability to toilet facilities
Provide an adequate number of restrooms for the size of the workforce to prevent long lines. You should consider OSHA requirements as the minimum
Do not impose unreasonable restrictions on the use of restrooms
Ensure that any restrictions, such as locking doors or requiring workers to sign out a key, do not cause extended delays
Allow workers to leave their work locations to use a restroom when needed. Delays can cause urinary tract issues and other health problems
All restrooms, including portable restrooms, should provide privacy (such as locking systems), and should be separated by gender. Unisex facilities are a problem waiting to happen
Toilets should be well lit, ventilated, and in a secure area
Provide soap and water and/or antibacterial hand cleansers
You can trust USS, the provider of choice when it comes to keeping employees safe, healthy, and comfortable on the construction site.
The standards we set for our people and our service are extremely high. You just won't find a better-trained, more professional team.
Plus, you're protected by our 8 Point Service Plan. One of the hardest parts of renting portable restrooms for onsite sanitation is keeping them clean. That's because most providers don't have a dependable plan to service their onsite porta pottys or other onsite sanitation facilities. On a construction site, where those facilities get heavy use and could be in place for weeks or months, that's just not acceptable to your workers. Or to OSHA.
Our 8 Point Service Plan ensures clean portable restrooms are always available to you by documenting the porta potty cleaning service process, equipping our service technicians with the best cleaning solutions, and holding our entire team accountable for repeating this process every time.
Let us help! Call United Site Services at 1-800-TOILETS to get our advice on a rental and service plan that meets your needs, and keeps you in compliance with OSHA regulations.