Northeast Region Jumps Into Action After Hurricane Sandy, Supplying Porta Potty Rentals and More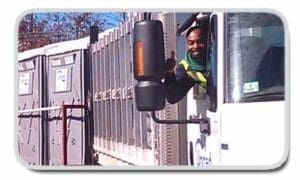 When a hurricane merged with a nor'easter on October 29, 2012, the result was a super storm that won't soon be forgotten. Hurricane Sandy left a path of destruction in New York and New Jersey that has forever changed the makeup of the coastline.
As the news of Hurricane Sandy's arrival began to spread, USS offices in the Northeast Region began to gear up, knowing that their services and emergency portable toilets would be needed.
"When we heard the reports of where the hurricane would hit, we started to prepare and coordinate services," said Steve Quintal, Branch Manager at USS's Haverhill, Massachusetts office. "We began by loading 100-gallon fuel tanks with diesel, as diesel is always needed."
USS's offices up and down the Northeast Region were called into service. Equipment had to be sent to the impacted areas from Foxboro, Springfield, and Haverhill, Massachusetts, Branford and Stamford, Connecticut, and Waldorf and Baltimore, Maryland. It was a logistics marathon.
All in all, USS deployed 1,800 portable toilets, 400 sinks, and 30 shower trailer rentals. Additionally, USS supplied a water system for Loads of Hope – a traveling laundromat developed by Tide detergent. USS services were concentrated mainly in Monmouth and Old Bridge, New Jersey, and along the famous Jersey Shore. In New York, USS deployed units along Rockaway Boulevard on Staten Island, as well as in Manhattan and Long Beach.
USS customers for this project were the organizations that would often be called in after natural disasters, such as the Federal Emergency Management Agency (FEMA), National Grid, Red Cross, and others. "When it comes to disaster services, no matter who the customer is, they require a fast response time," said Ron Rotti, Northeast Regional Vice President. "If you don't have units at the site within a 12 to 24 hour period, customers will move on to another vendor."
The economic impact of Hurricane Sandy will be felt for many years to come. It's estimated that 72,000 buildings in New York and New Jersey suffered damage. Even after the storm had passed, USS performed approximately 1,700 services every day because of the huge demand. Ron Jennings, Branch Manager at USS's Branford and Greenwich, Connecticut offices, was among the USS Associates who saw the destruction first hand. "This hurricane changed people's lives in a short time," he said. "I saw dozens of houses destroyed. Roads collapsed and trees and wires were down throughout the area. Empty parking lots became mini landfills to store debris – because there was no other place to put it."
There is a lot of rebuilding now going on in these areas. As a result, USS is seeing more construction site porta potty service customers. "These new customers are in the areas of New York that USS had not penetrated before," said Rotti. USS will support the hurricane cleanup by providing excellent service to these new customers as they rebuild homes for families displaced by the super storm.