Trust USS to fortify security and elevate safety on any project. Whether you rent a  temporary fence panels or chain-link fencing to enclose and safeguard a large construction site, or barricade rentals for crowd control at local events, USS is your dependable partner. As the leading fence provider in the U.S., we are dedicated to assisting you in selecting the ideal fencing solution for your needs.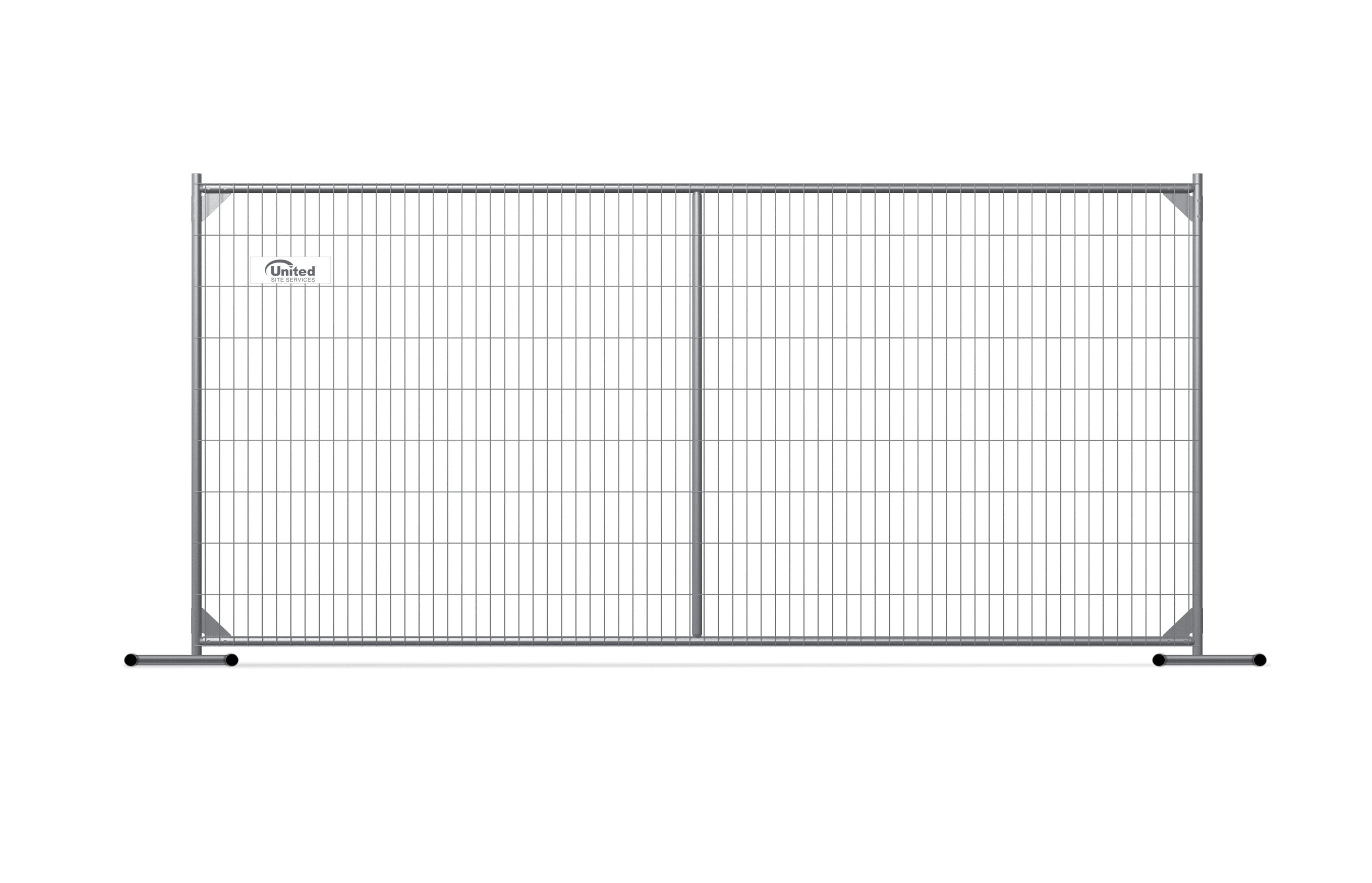 Temporary Fence
Our temporary fence panels are the ideal solution for directing crowds or sectioning-off areas during construction or events. United Site Services' temporary fence panels offer a secure and safe solution that is simple to erect and re-position, and comes in sizes to suit your needs. Whether you're looking for construction fence panels to screen and secure a large site, or fence rentals to corral crowds at a local event, our temporary fence panels are here for you.
Temporary Fence
Learn about what impacts temporary fence rental costs for your construction site fencing or event crowd control fence needs.
Enhance Security Levels with Our Temporary Fence Solutions
Our temporary fence rentals are the ideal solution for security, traffic flow and crowd management. United Site Services' temporary fences offer a secure and safe solution that is hassle-free to erect and re-position as needed. No matter the size or scale of your project, our wide range of fence options ensures a seamless fit for your site requirements. Whether you're looking for a construction fence rental to screen and secure a large site, or fence hire to corral crowds at a local event, our temporary fence rental services are here for you.
Temporary Fence Panels
Durable steel fence panels available in 6′ x 12′ and 8′ x 10′ sizes. Perfect for all construction fence rental needs and temporary fencing for events. Swift delivery and assembly by qualified technicians.
Post Driven Chain Link Temporary Fence
Resilient temporary fencing that is driven directly into the ground to withstand the toughest conditions. Ideal for construction fencing or security fencing. Post driven temporary fence can be installed on any surface.
Barricade Fence Rental
Durable, steel, crowd-control temporary fence panels. Free-standing security fencing that is lightweight and adaptable. Perfect for public events and security fencing.
Privacy Screen Temporary Fence
Privacy screening material for our temporary fence rentals. Provides protection from the weather, blocks visibility and creates a neutral and professional background. Ideal for a construction fence rental and public event site.
Stabilizer Options:
Sandbags
Keep your fence in place with standard double sticked bottom sandbags with 40lb weight capacity.
Driven Post
Is the backbone to your fence. Driven posts ensure your line of fence is anchored for wind resistance and prevents the fence from sagging.
Bigfoot Ballast Weight
Aesthetically pleasing for high profile job sites, with high visibility and a great alternative for sandbags
Gate Options:
Swing Gate
Our swing gates are low maintenance and require space for a wide half-circle for opening and closing.
Slide Gate
Our wheel-mounted gate slides along a track and is ideal for sites that have limited space, rough terrain and require increased security.
Cantilevered Gate
This trackless gate system is supported by rollers designed of all terrain, easy to maintain and has a long lifespan for longer projects. Wind Windscreens or Privacy Screens
Privacy Screen
Provides site noise reduction and visibility shields contents of site with 60% opacity. Protects one-site personnel from airborne dust and dirt. Provides additional privacy and security to your work environment.
Stock Vinyl (Plain)
Additional visual security and privacy with 70% opacity. Gives the site a clean and professional look.
Customer Logo Vinyl
Maximum brand impact with high-quality printed logo to showcase company or event and shield onsite contents with 70% opacity.
What our customers are saying...
SERVICE is the key word in describing United Site Services. We have appreciated their attention to detail in working with us for the planning of our event, the Denver Marathon, and especially for their services provided on race day.
Got a hold of me right away, listened to what I needed and got me what I needed. Understood my budget and got me the toilets at a very reasonable price. The staff in the San Jose office were very nice and easy to deal with.
Matt Z., San Francisco, CA
United provided an immediate response, and went above and beyond to help me work within the bride's budget. I plan to work with this service many times in the future for my event planning business!
Jennifer K., Lexington Park, MD
The Port-a-potty was clean and was the hit of the party which was themed "Under Construction." The delivery was on time and the people I made contact with (including the delivery guy) were very professional. I would definitely call them again should I need a porta-potty.
Tom C., St. Petersburg, FL
We would like to thank you for your services at this year's Preakness Stakes.
Your equipment that you provided was clean, up to date and well stocked. Everything arrived on time and was set up with no problem and to specification.
Ben H., Maryland Jockey Club
In my four years as VP of Operations at New Hampshire Motor Speedway (NHMS), United Site Services, Inc. has consistently delivered excellent service. They've provided hundreds of portable toilets, VIP trailers, camper pumping, and 100,000 gallons of septic removal before each event. Their dedicated local team ensures event success, rain or shine.
John Z., NHMS V.P. Operations
Thank you for your invaluable support at Naval Air Station Patuxent River's Air Expo '09, featuring the Blue Angels, Golden Knights, and more. Your dedication ensured a safe environment for over 111,000 thrilled guests, making the event a resounding success. Congratulations on a job WELL DONE!
Andrew M., Patuxent River, MD
United Site Services delivered as promised, arriving on time, offering friendly and helpful service. Despite being a small town, they treated us with professionalism, not hesitating to help. They made us feel valued, regardless of the project's size, providing a wonderful experience. Thank you!
At the Niles Antique Fair, I managed a Boy Scout fundraiser, operating a parking lot. Your portable toilets received numerous compliments for their quality and comfort, even from seasoned scouts and adults. Your company excels in a service that most people would like to forget.
I want to take a second to let you know that I have used United on 90% of our projects for the last 5-6 years and we have been 100% satisfied with the service we have received. I know that with the current market conditions, price is first and foremost in making the decision on who to go with. I do believe if you end up choosing United you will not be disappointed.
I want to commend your outstanding service during the 2002 SUN 'n FUN fly-in. You played a pivotal role in its success, and the low service call rate, despite 500+ portable toilets, is a testament to your excellence.
Thanks United Site Services! During our event, we had unexpected rain overnight disrupting our plans, but they swiftly delivered replacement units, saving the day. They'll be our first call for next year's event.
Steve Drew, Foxborough Founders Day, MA
United Site Services consistently delivers 5-star service. Over our 5-year partnership, they've never disappointed. Whether it's last-minute or after-hours, they're reliable. Their customer service team and drivers are professional, friendly, and timely.
We just used two restroom trailers at the Landis Beer and Wine Festival and WOW the guests loved them.