At United Site Services, safety is everyone's job, every day
If you look at recent statistics from OSHA, it's clear that efforts to improve worksite safety have had a positive impact. Workplaces have never been safer. But at United Site Services, our goal is to eliminate accidents and injuries from our daily work. That's why we're always busy promoting safety at every one of our 100+ locations across the country.
Even the children of USS associates get involved in promoting safety!
This year, our "Hunt for a Safe October" safety program made it a family affair, kicking off the challenge by asking our associates' children to draw pictures of their moms and dads being safe at work.
So, how did the program do? We received a total of 91 drawings! Three winners were selected, and 12 total drawing were selected to be included in our first-ever USS Safety Calendar. It'll combine the amazing drawings with monthly safety tips, and hang on the wall at every USS branch. See below for the top three winners:
1st Place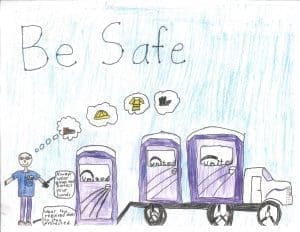 2nd Place
3rd Place
Constant safety training helps protect our associates and our customers
In our business, the need for safety comes in many forms. So does our safety training and other efforts to ensure a safe environment for both our associates and our customers. At USS "Safety first" is more than a slogan. It's how we approach every aspect of our work, every day.