USS Honors Veterans, Celebrates Armed Forces Day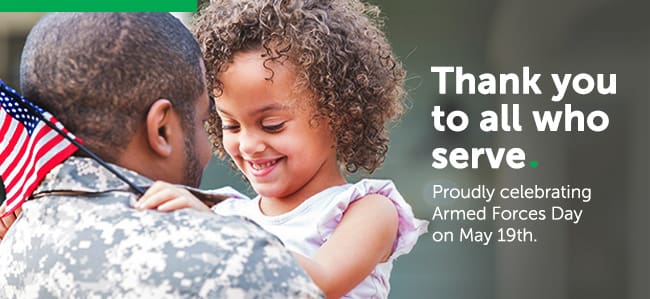 As Armed Forces Day (May 19) approaches, United Site Services continues its mission of hiring, supporting and honoring American veterans. To those who have served in the
military, we express our heartfelt appreciation of the bravery they have shown and the sacrifices they have made in defending our country. At USS, we are proud to:
Employ veterans from every branch of the armed forces, since the skills they have learned in the military—such as leadership and teamwork—are perfectly suited to helping United Site Services meet our day-to-day business challenges, maintain our standards of excellence, and achieve our loftiest goals.
Donate to Hire Heroes USA, an organization that helps thousands of transitioning U.S. military members, veterans and military spouses find employment every year—with all services free of charge. In fact, in 2017, United Site Services made an employee-driven $10,000 donation to Hire Heroes USA which, as a non-profit, recently earned the highest-possible four-star rating from Charity Navigator for the third year in a row.
"This donation, based on the efforts of United Site Services' employees, is both welcome and timely," according to Christopher Plamp, Interim CEO of Hire Heroes USA at the time, and a retired Air Force Colonel. "[It] will enable us to provide free career services to an increasing number of clients. We recently passed 20,000 lifetime hires…and each success drives us toward continued growth and new innovation."
Ron Carapezzi, CEO of United Site Services, adds, "We are honored to give to an organization that helps our service men and women in such a powerful way. We are also humbled by the response of our people. Our employees really made this…memorable."
Serve those who serve, as we provide world-class sanitation services to the military as they carry out their everyday training and operations. Our services are designed to help the military function as efficiently and seamlessly as possible, so they're able to focus on their top priority: keeping us all safe. As a case in point, consider the Certificate of Appreciation that was awarded to USS employee, Heather Sprague, last month by the Thunderbolt Brigade in recognition of her "dedication and selfless contributions" to the brigade as she organized the placement of 150 sanitation units over 28 training ranges.

HEATHER SPRAGUE OF UNITED SITE SERVICES RECEIVES HER CERTIFICATE OF APPRECIATION FROM MEMBERS OF THE 17TH FIELD ARTILLERY (THUNDERBOLT) BRIGADE.
At United Site Services, we'll be celebrating the heroism of our veterans on Armed Forces Day on May 19th. And we'll be renewing our commitment to providing them with employment opportunities and financial donations that show the true scope of our gratitude, and that recognize the excellence of character they bring to every organization they join.