United Site Services' Green Initiative Featured in Pumper Magazine®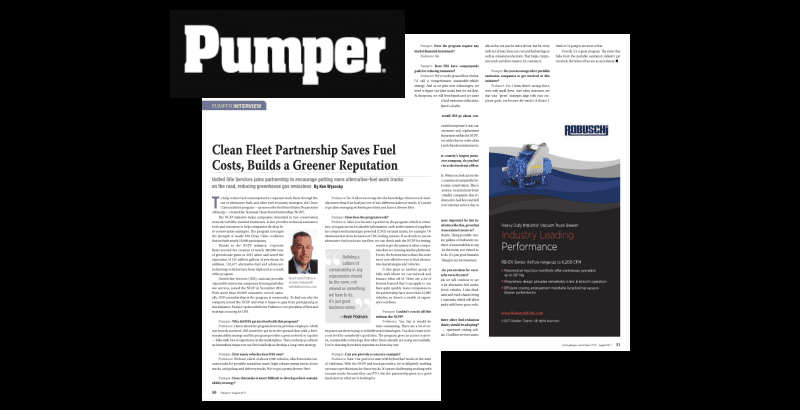 Ken Wysocky. "Clean Fleet Partnership Saves Fuel Costs, Builds a Greener Reputation." Pumper Aug. 2017: 50-51. Print.
To help reduce fuel consumption by corporate truck fleets through the use of alternative fuels and other fuel-economy strategies, the Clean Cities coalition program — sponsored by the United States Department of Energy — created the National Clean Fleets Partnership (NCFP).
The NCFP initiative helps companies interested in fuel conservation network with like-minded businesses. It also provides technical assistance, tools and resources to help companies develop fuel conservation strategies. The program leverages the strength of nearly 100 Clean Cities coalitions that include nearly 18,000 participants.
Thanks to the NCFP initiative, corporate fleets averted the creation of nearly 369,000 tons of greenhouse gases in 2015 alone and saved the equivalent of 152 million gallons of petroleum. In addition, 101,677 alternative-fuel and advanced-technology vehicles have been deployed as a result of the program.
To read more go to http://www.pumper.com/ezine/2017/08?ref=header