Portable Toilet Rentals: You've Got Options!
Have you ever had the unfortunate experience of using an under-serviced, over-used, putrid smelling porta potty? If so, you might think all porta potties are vile plastic boxes. But it doesn't have to be this way, because you've got options.
This is the first step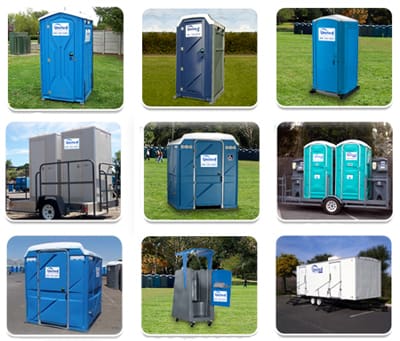 Choose a reliable portable toilet provider. Hire a portable toilet company that has experience, a large inventory, a great service record, and has the expertise to work with you to get you the perfect portable sanitation solution for your needs and number of users. This brings us to your options. There are many varieties of portable restrooms from standard portable toilets to high-end luxury restroom trailers – different types of toilets for different uses.
Portable Restroom Options by Use
Events – Festivals, Weddings, Sporting Events, Outdoor Parties, Corporate Events
Deluxe Restrooms These Deluxe Restrooms are the most popular portable toilet rental for special events.
Flushing Restrooms This Porta Potty rental is ideal for upscale events and perfect for weddings. With more features than the deluxe units, this portable toilet rental offers an added level of comfort and convenience for guests, including sanitary hands-free flushing via a foot-pump and a hidden waste tank.
Wheelchair Accessible ADA Compliant – ADA Restroom rentals have extra space for handicapped individuals. For family-oriented events, the Wheelchair/Handicap Accessible portable toilets are an excellent option because their spacious interior accommodates parents who accompany children to the restroom.
Restroom Trailers The Restroom Trailer Rental is durable and ideal for high-traffic special events. With luxury accommodations, these restroom trailers are perfect for weddings and VIP guests.
VIP Solar Restrooms This restroom option offers a spacious unit that includes a flushing toilet, running water and solar lighting.
Construction 
Standard Restrooms These standard toilets meet the basic needs for restrooms on a job site.
High-Rise Toilets These units allow you to move the restrooms closer to your workers on tall building projects.
Mobile Office Sanitation This system allows you to incorporate toilets and sinks into your office trailers.
Heavy-Duty Restroom Trailers These restroom trailers offer the experience of a permanent restroom with full running water.
Trailer-Mounted Toilets Move your portable toilet rental easily for workers in fields or on-road construction.
Seasonal – Farm Stands, Beaches, Outdoor Markets, Parking Lots, Athletic Fields, Parks
Deluxe Restrooms These portable toilets are a great cost effective alternative to building a permanent rest area, with the added convenience of being able to be moved to areas where they are needed most.
The moral of the story, if you choose a portable toilet vendor that has the expertise to guide you in the right direction amongst the sea of portable restroom options, you can't go wrong. You will get clean restrooms delivered to your site that will please your guests and/or staff. Don't be surprised when you hear the joyful reactions of your guests that have just experienced high-end luxury in restroom trailers or a staff member that is pleased with the convenience of portable restrooms in close proximity to a job site. United Site Services has over 40 years experience and has 60 locations across the nation. Our inventory is large and our staff works hard to provide excellent service. If you are looking to rent clean restrooms with the perfect options for use, give us a call at 1-800-Toilets (800-864-5387) or request a quote online.